30 DAYS TO A STRONGER NOVEL

Congratulations! You've written a novel. Now what?
It's time to make it the novel of your dreams.
Join writer and writing teacher Darcy Pattison on a one-month journey to take your novel to the strongest place possible. Take the easy and effective path toward a stronger novel.
Each day features:
a short video to introduce the day's topic
a Walk-the-Talk writing assignment
You will receive the entire text of the book, 30 Days to a Stronger Novel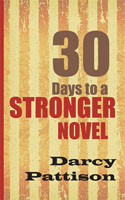 We'll write smart with a simple focus for each day's writing. You'll learn about both small and large details: titles, subtitles, openings, closings, setting, characterization, plot and much more. By breaking the revision into small tasks, it becomes manageable--and fun.
You'll receive the daily pages and by the end of the month, you'll have the entire text of Darcy Pattison's book, 30 DAYS TO A STRONGER NOVEL . 27 daily videos (3 days are pdfs only) highlight a daily task. Quotes from other writers will inspire, challenge, provoke and make you laugh.
FAQs
What is a draft of a novel?

Well, that can be tricky. What's your definition of a novel? What's your definition of a draft? It's usually the first pass through your story, but it can be a story that's been revised a couple times already. It's a novel that you're not entirely happy with - yet! Whatever your starting point, you'll move forward.
Who should take this course?
Novelists of any level. Beginners welcome. If you're more advanced, you'll find plenty to keep you busy, too!
What will you be able to do when you finish this course?

Revise and improve your novel in just 30 days by following 5-minute tips and writing tasks.

You might be asking yourself, "How can this course help me? My writing time is limited!"

First, you'll find the videos short and sweet, yet packed with information. For example, you might watch the video and read the pages before you go to work. During any slow time that day, you can think about your story and what needs to be done. Then, spend time that evening doing that one simple task. You'll have daily pages to refer to for any questions.
Second, you can watch the videos and do the exercises as many times as you like.
We've set up this course to deliver an installment each day for 30 days. We planned it for a daily 5-minute look at your novel to optimize your time and to help you stay on track. However, if you want to watch them all at once, simply email Darcy Pattison for access.
Join the class today!